Almond Oil treats dry skin and provides moisture, so that cracking and flaking will be less likely. Almond Oil is highly emollient, it balances the absorption of moisture and water loss.  Sweet almond oil provides the monounsaturated fats and Vitamin E the skin needs to remain youthful, supple, and radiant. 


Improve Complexion and Skin Tone
Almond Oil is antibacterial and full of Vitamin A, which is great for improving complexion. Almond Oil also has sclerosant properties. Sclerosant is a medical term that means "causing the veins to contract and not be as visible." Almond Oil works to improve skin tone and complexion, as well as contract the veins so they are less visible. 
Almond Oil has both anti-inflammatory and antioxidant properties. The anti-inflammatory properties work to reduce inflammation and under eye puffiness. The antioxidants work to lighten dark circles under the eyes by boosting blood circulation and reducing their appearance. Almond Oil also destroys free radicals and provides nutrients to repair itself. Regular use could result in smooth, healthy, and more youthful skin. 


Almond Oil contains retinol, Vitamin E, and Vitamin K that all work together to keep delicate skin under the eyes smooth without causing irritation. The Vitamin E also helps heal sun damage on the skin,  reduces the signs of aging, and fades the appearance of scars. 
4 INGREDIENTS IN CAVIAR EYE CONTOUR, INCLUDING ALMOND OIL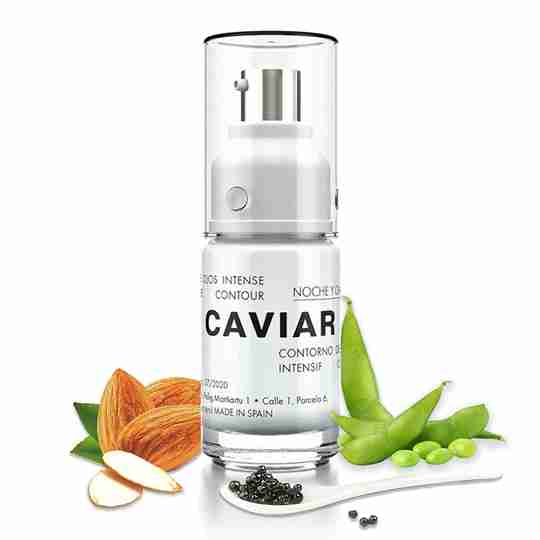 Caviar Eye Contour Cream's 4 Ingredients work together to reduce the signs of fatigue, fine lines, dark circles, and puffy eyes. 
1. Almond oil provides the monounsaturated fats and vitamin E skin needs to remain youthful, supple, and radiant. As a natural emollient, almond oil balances the skin's water content, preventing dryness.

2. Rice Grain & Soy Proteins nourish under the eyes to reduce the appearance of dark circles and eliminate the signs of fatigue. 
3. Hylauronic acid provides moisture and causes creases to disappear. 
4. Caviar extract is rich in Omega 3 & 6, which can reduce the appearance of wrinkles and fine lines. Caviar has numerous anti-aging properties, and contains all the vitamins and minerals which your skin requires to retain moisture and stay wrinkle-free. 
This age-defying formula, fortified with caviar extract, works to strengthen and protect the delicate skin under eyes. The ingredients work together to reduce inflammation under the eyes, give the skin the vitamins it needs to remain youthful, supple, and radiant, and regenerate damaged collagen and elasticity. 
This formula is professional-grade strength, so a little goes a long way. We recommend skin testing this cream on your hand before beginning regular use. 
CHECK OUT THE CAVIAR EYE CONTOUR IN THE CAVIAR 3 STEP SYSTEM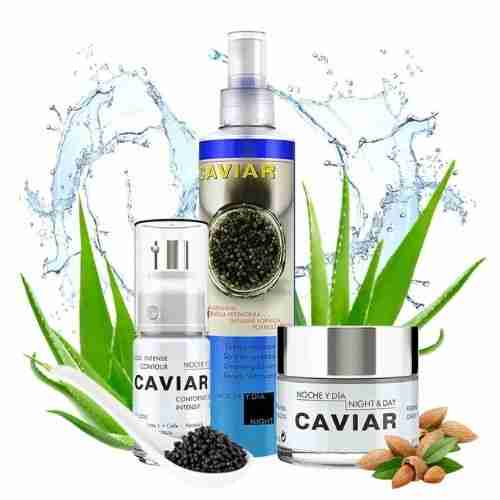 Caviar 3-Step System

This 3-Piece System is a complete approach to hydrated, healthy skin. It is both paraben-free and cruelty free. Sturgeon Caviar, Aloe Barbadensis, Almond Oil, Vitamin E, Rice Grains and Soy proteins work together to hydrate and nourish your skin every step of the way.
Step 1: Caviar Facial Cleanser
Step 2: Caviar Face Cream
Step 3: Caviar Eye Contour

For the best results, we recommend using the complete 3-step system daily. The combination of nutrients and deliveries from each step is what makes this 3-step system so effective. 
Cosmetics "hide" imperfections.
 We make them disappear.
Use left/right arrows to navigate the slideshow or swipe left/right if using a mobile device